Rowan Class is taught by Miss Catherine Barnes and our teaching assistant is Miss Taylor.
So far this term we have been busy settling into our new environment and meeting new friends. We're working hard to take turns, share and be kind to each other during our learning.
We are currently working hard to make sure we are sticking to our class promise of;
-Kind words
-Gentle hands
-Walking feet
-Indoor voices
Families
'All About Me' is a focus we like to start the school year will so we can get to know eachother. We have welcomed our lovely new Reception group into the class and everyone is busy learning new names and making new friends.
Our families are so important to us! We have lots of discussion about our families and who is special to us at home. During circle time we share our ideas and gain confidence within the new class.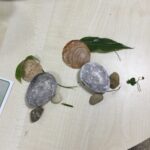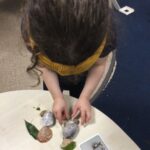 We've enjoyed creating 'pebble people' families to show who is important to us.
Maths
In Maths, the year one children have been learning how to represent numbers in different ways, predominantly numbers as numerals and words.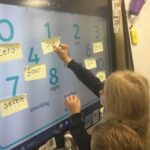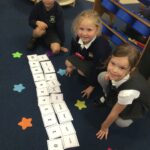 The Reception children have been settling into the classroom and working with grown ups to show us what they already know.
 Literacy
In Literacy the Year 1 children are building stamina within their writing and trying to work a little more independently. Our main focus throughout Year 1 is to use capital letters, finger spaces and full stops within sentences without needing to be reminded.
Reception's focus this half term is to master segmenting to spell simple words aswell as beginning to form more recognisable letters.
Our quality texts this half term will be 'The Kiss that Missed' by David Melling, 'The King's Crown' by Rose Cobden, 'If I Were King' by Chelsea O'Byrne and 'The Very Last Castle' by Travis Jonker.
Phonics
We follow the Twinkl Phonics Scheme which provides us with a structured base for phonics learning. In Rowan class we complete lots of engaging activities to support our learning of phonics. 
For example, when learning the 't' sound we had cups of tea at snack time!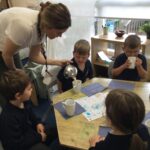 For the 'n' sound we looked at a real bird's nest and made chocolate rice crispie nests!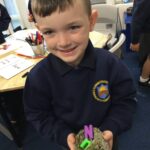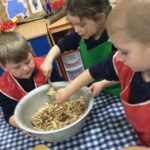 The children have phonics folders and reading books to take home each day which support them in their learning of new sounds,
https://www.twinkl.co.uk/resources/twinkl-phonics/level-2-twinkl-phonics
Topic
Our half term topic is Castles, Kings and Queens. In Rowan class we have topic blocks which means we focus on one subject in the afternoons for a week or two.
We have so far had our art topic block. We've focussed on drawing skills, specifically looking at castles. The children have explored different drawing techniques with pencils and identified shapes within castles.
We will be moving on to our History block next where we'll be learning about the word 'monarch' and what that means, how you become a monarch aswell as some significant British monarchs. We will be having our very own medieval banquet!
In Science we will be working scienficially and focussing on 'investigating'. This will be linked to our topic theme and we'll investigate which materials are best to build castles with.
Forest School
Last term our school forst school area started development. Although this area will always be maturing and growing, we're looking forward to getting out to explore once we've settled more into our classroom routines.
Up in the forest school area we have a mud kitchen, den building and gardening equipment and loads of lovely trees and shrubs to explore and find minibeasts within!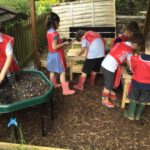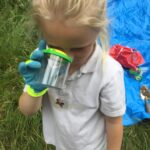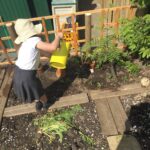 Good to Know
Each child has a home reading book and reading record to take home. These are changed on a Monday after every child reads to an adult in class. If the children read three times or more at home in a week they're rewarded with a 'champ' ticket which goes into a price draw. 
In Rowan class we do P.E on Monday afternoons. The children come to and from school in their P.E kits. 
On Wednesdays, Mrs. Neal teaches our class in the afternoon and the children enjoy some music! 
The Year 1 children have their weekly spelling tests on a Friday.